Like me, many of you out there in Booklikes Land probably have never read this story and only know it through images like this (though since this is Booklikes then I suspect more people have read the book than the general population):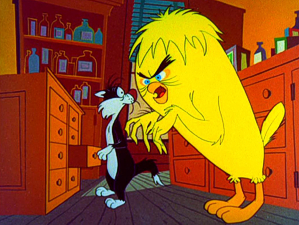 This is not surprising since many of the stories that we have grown up with have been so butchered by Hollywood that we actually don't know the real story that is behind them. For me, all I could tell you was that this story is about a good man named Dr Jeckyl who creates a potion that turns him into a monster, and that is basically about it. Okay, there are scenes where he runs around scaring people, but the actual story, well, I couldn't tell you anything about it.
What surprised me about this novella is that it is more of a detective mystery than a horror story, though there are a lot of horror elements in it. As one person has suggested, you can actually skip a large portion of the story and go straight to the last chapter, which is a letter written by Doctor Jekyll about what had come about of him, and where he ended up.
The funny thing is that I find it difficult to accept that Dr Jeckyl is actually a good and pure hearted man when he is performing experiments to pretty much unleash the side of him that is basically a monster. However, I do not get the impression from this book that the monster that is Mr Hyde is a monster in the sense that we see in the Bugs Bunny cartoons. Rather the monstrous aspect of the character is that he simply has no morals whatsoever, and no sense of guilt over what he had done. Seriously, why on Earth would a human, who is actively trying to suppress that side of him, suddenly want to unleash it through the use of drugs.
Now this is an interesting concept, and it is something that was sitting at the back of my mind as I was reading this book: the connection with drugs. Now, at the time of writing people were using drugs, and as far as I am aware, one could get access to drugs like cocaine and morphine quite easily, but I suspect that it also applies very much to alcohol as well. The funny thing is that what Stevenson is writing about is a substance that basically reduces your inhibitions and that in many cases are what drugs and alcohol do. I have heard many times that beer is referred to as a social lubricant.
However, there is another aspect to this, and that is the fact that alcohol can cause you to do things that you would not do when you are sober. Currently in Australia, particularly in Sydney, due to the death of another person who had been caught up in alcohol fuelled violence, there is a debate as to what to do to prevent it (they have since introduced lock-out laws and mandatory closing times, which has effectively destroyed Sydney's nightlife – not to mention the bouncers that are everywhere). People have also suggested that violence caused through the use of alcohol be treated as an aggravated offense (and even then, the defense of 'I was drunk and did not know what I was doing' isn't a defense that will hold water in a court of law). Yet sometimes I wonder whether this is simply an Anglo trait because when I was in Europe I noticed that the Germans, who are famous for drinking their litre glasses of beer (though is it turns out that is actually a myth that is not true in places of Cologne), did not seem to be as loud and raucous as the English were when I was wondering around the streets of London late at night (or even what I notice when I am wondering around the streets of some unnamed Australian city).
In a way many of us want to put the story of Dr Jeckyl and Mr Hyde purely into the fantasy realm, but I suspect that maybe this is not where Stevenson was intending. As I have explained, we don't need to lock ourselves in a laboratory and attempt to create a potion that will turn us into a monster, that potion already exists, and can be purchased at any number of shops as long as you are able to prove to the vendor that you are of an age that will allow you to purchase the product (though of course not everybody turns into a monster when drunk, but in many cases they will still do things that they will unlikely do when they are sober).