Well, if anybody can write and adventure story about a journey by ship it would have to be Joseph Conrad – he ought to know since he spent a lot of his life as a sailor. In fact, it is suggested that this story is based upon Conrad's own experiences which suggests that he had some pretty harrowing experiences during his time on the high seas, especially considering the constant problems that seem to perpetually plague the unfortunate Judea. The story is about a smallish ship in its attempts to take a cargo of coal from England to Thailand, with Bangkok being that goal that forever seems to be out of reach. Even before the Judea leaves England it is hit by a steamer, has the ballast shift, and is also abandoned by the rats (which, while sounding like a good thing, is actually a really bad omen, so the Judea then has to waste even more time hiring a new compliment of crew since sailors will not sail on a ship that has been abandoned by rats).
The story is structure similarly to 'Heart of Darkness' in that it begins with a group of ex-sailors sitting around a table, drinking and retelling stories from their youth. The story of the Judea's fateful journey is recounted by the character Marlowe, who in a way is Conrad's alter-ego, and is the story of his first commission as a mate. While he has had experience on ships previously, this is the first time that he held a senior role, and it is also the first time that the captain, John Beard, had captained a boat.
Mind you, even when the Judea finally manages to leave England (the journey was supposed to take five months, but due to all the problems that plagued the unfortunate ship, it end up taking much, much longer) the problems aren't over. Well, they do manage to reach the coast of Western Australia before the cargo catches alight (and considering that they are carrying coal, that is not really a good thing) and they must then resort to various attempts to put it out, though from what I gather it is not a raging fire because they are able to hitch a ride with the steamer so that they might get to the harbour and then sink the ship in an attempt to extinguish the blaze.
I probably shouldn't say too much more because I have probably given away too much already, but the one thought that was going through my mind as I was reading this little narrative was what Bangkok was like back in those days. My experiences of Bangkok is that it is a city of contrasts, but I suspect back in Conrad's days it would have been one of those exotic destinations, but hardly the tourist attraction that it is today (though I while they did have a tourism industry back in those days I suspect that you wouldn't have the globe trotters that you have today, and anyway, it probably was not the sort of place that you would go and take your family (though unlike these days, only the wealthy would have the money to travel).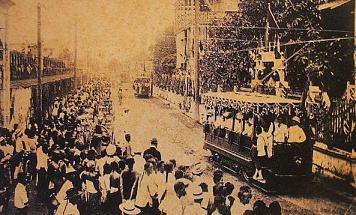 Bangkok 1895
Bangkok today