My first encounter with this book was not through a friend, or even seeing it on a bookshelf, but rather through the roleplaying game
While Shadowrun did use this particular book as a source (and now having read this book it is surprising the number of ideas that were borrowed), Shadowrun does add the element of magic into the mix to create a more interesting roleplaying setting (which probably has something to do with roleplaying geeks – like me – preferring a setting that has magic and dragons as opposed to one without). However, there was an earlier roleplaying game that was much more faithful to the book known as
(though the actual title was Cyberpunk 2020).
Neuromancer is set in a dystopian near future where cities have spread out of control and are know known as sprawls (the entire Eastern Seaboard of the United States has become one massive dirty city). Human technology has advanced to the point where we can manufacture body parts such as arms and legs, and computers have developed to the point where we can interface with them by plugging a cord directly into our brain.
While this picture really gives us the impression of what this dystopian future would look like
and having seen lots of similar pictures when I would browse through the numerous Shadowrun books that I own, it wasn't until I first stepped off the bus onto Nathan Road the night that I arrived in Hong Kong to have by senses blasted with a scene like this:
though this is what Nathan Road looks like during the day
though for some reason I simply cannot imagine there ever being something even close to 'day' in the cyberpunk world.
Anyway, enough of my reminiscing and onto the book.
One of the reasons that it probably took so long for me to get around to reading this book is that most people have told me that while the content was revolutionary (to an extent) the writing, and the story itself, was pretty dull. The thing about this book was that it spent a lot of time painting a picture of the future world of cyberpunk and did little to create an engaging story. To me the story was all right, it is about an artificial intelligence hiring some hackers to enable it to become sentient - the laws of the world of Neuromancer made it illegal for an artificial intelligence to become sentient - which is not surprising because you would probably land up with something like this: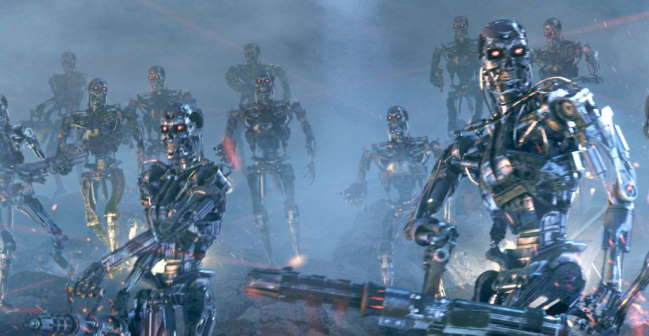 However, what my friends told me about the writing was partially true. The thing that I found frustrating was that Gibson didn't do a really good job of actually painting the picture, and in the end the story became a little hard to follow, especially when he was inside some computer system. Gibson also created a lot of terminology yet failed to explain what this terminology actually meant, leaving the reader to try to guess where he was coming from. While my exposure to Shadowrun gave me an understanding of what Gibson was getting at (and even then there were some ideas that I struggled with, and I still do not understand what he meant when he said 'Case flipped') I suspect that many who have not had a similar exposure would be left confused.
That said, while I would probably not say that the book itself was revolutionary, it did create a new setting that has since been copied by many other authors (and has even spawned into a number of roleplaying games). The story behind Gibson writing the book (which can be found here on wikipedia) is also quite interesting: I did note that Gibson thought the book was going to be a flop since Blade Runner had hit the screens while he was in the process of writing Neuromancer. In fact, I note that Gibson had ended up writing and rewriting this book a total of 12 times, but then again I put that down to the natural instinct of a writer to have the desire to create a perfect piece of literature and never being satisfied with the final outcome.